Feel Better, Increase Energy, Lose Weight
Like many of us, I have done different detoxes over the years. Some have been successful, some not. Most have been difficult to follow because they were either inconvenient, I was always hungry or tired or just plain uncomfortable. In addition, I didn't always feel I could actually see more than temporary changes.
The 7 Day Healthy Cleanse is one that I have used that is easy to follow, NO cravings, gave me energy and focus, and actually reset my metabolism to be what is right for my body. For me, that is a "set" point of 3-4 pounds lower (those pesky 5 lbs have finally left). This means that, even if I have a "bad" day, within one-two days I am back to my "set" point.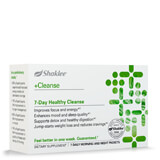 I choose the Shaklee 7 Day Healthy Cleanse because it comes in morning and night packets of the exact nutrients needed for a gentle cleansing plus instructions for a successful week.
With it are online recipes for a week of delicious vegetarian meals and shakes.  This is just 7 days and then join our
Prove It Challenge

for the rest of the month to take the next step in your journey to optimal health!  You can actually purchase both the

Cleanse

and the rest of the

Prove It Challenge

in a

Special Package

. 
Completely reset your system, reduce cravings, improve sleep, and jump start weight loss with our
7-Day Healthy Cleanse

. A carefully selected combination of supplements in convenient daily packets with a step-by-step cleanse guide and supporting diet plan.

Here are some simple ideas:

Wake-Up Detox Drink
Drink Detox Tea (30 minutes before eating breakfast if you can)
16 oz. water (hot, cold or room temperature)
Add 1/2 squeezed lemon or lime
Add 1 package of Shaklee 180 Energy Tea

Breakfast
Morning packet
Sauteed veggies or
Smoothie
Snack
Unlimited Organic raw veggies
Lunch
Organic Salad with avocado
Vegetable soup
Snack
Unlimited Organic raw veggies
Dinner
Roasted veggies with garlic and olive oil
Organic Salad
Evening packet
Here is your Shopping List for the 7 Day Cleanse
Lemon Water All Day
Interested in getting started?
I look forward to hearing your results!!
Every Package comes with: