Have you ever wondered how safe the products are that you put on your skin?  Do all of those "anti-aging" products actually work? Is purity and science behind the products you use important?
YOUTH Skin Care was researched for 8 years in order to bring us products that not only work but also don't have over 2500 of those ingredients that are shown not to be safe.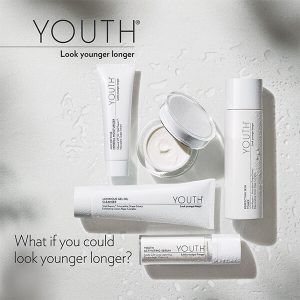 Here is some Q&A that helps us understand the "Why?" we might want to change brands and have fabulous results!  I will be doing several blogs with answers to different questions we all have. First let's start with:
Q: How is this YOUTH skin care line different from others in the market?
Are you part of a growing trend to seek more natural beauty products?
The challenge to meet that consumer need is that a product claim to be all natural may be valid  but they often don't really deliver products that truly work. The flip side of that is many companies deliver products that work but they are nowhere near natural and they rely on many questionable chemicals to deliver on that efficacy.
So you have this mutually exclusive space in the market today where you're either free of potentially harmful chemicals or you deliver high performance.
Enter YOUTH!
We've found that sweet spot where we've bridged the gap. With YOUTH, we have products that we've clinically demonstrated deliver amazing results without 2500 ingredients that are potentially harmful.
When you look at our claims versus other companies' out there today, YOUTH truly delivers benefits above and beyond what the competitors are even claiming. But we didn't have to rely on potentially harmful chemicals to deliver on that efficacy.
See the Specials available too – Get a $94 FREE gift!!